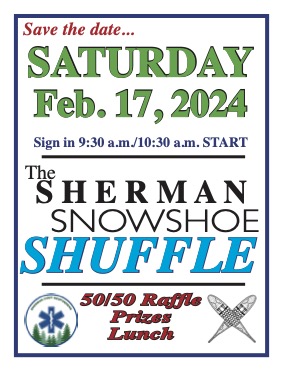 We're thrilled to announce that the eagerly awaited 2024 Sherman Snowshoe Shuffle has an official date! Mark your calendars for February 17th, 2024, and get ready for an unforgettable winter adventure.
Stay tuned for more information regarding registration, event schedule, and exciting details. We can't wait to share this special experience with you.
Keep an eye on our website for updates, and follow us on Facebook for the latest news and announcements.
Let's make 2024's Snowshoe Shuffle the best one yet!
About Sherman First Responders
Sherman First Responders is a dedicated team of state-certified, volunteer Emergency Medical Responders (EMR), proudly serving the Town of Sherman community and its visitors.
To provide professional, compassionate, emergency medical response services, and life-saving education to Town of Sherman community members and visitors, bridging crucial time gaps in our remote location for the well-being of those we serve.
To empower our community with compassionate care, life-saving skills, and early intervention, ensuring health and safety for all. As a state-certified EMR service, we envision a comprehensive, innovative, and collaborative system marked by clinical excellence and efficiency.
Service

Confidentiality

Dignity

Collaboration

Accountability
Dedication

integrity

respect

professionalism

trust
Jann Clark - Member since 2020
Sue Gantner, Service & Training Director - Member since 2020
Amanda Griggs, President - Member since 2022
Tatiana Johnson - Member since 2022
Beth Melvold, Secretary - Member since 2018
RB Melvold, Treasurer - Member since 2018
Tracy Murrin  - Member since 2018
Daniel Slone, Vice President - Member since 2008
Certification and Medical Direction
All our responders are certified Emergency Medical Responders (EMR) through the state of Wisconsin, upholding the highest standards of care.
Sherman First Responders provide care under the direction of Thomas B. Prebble, M.D. of Flambeau Hospital in Park Falls

In our unwavering commitment to the safety and well-being of our community, we work closely with the Springstead Volunteer Fire Department. Together, we form a united front, ensuring that our community is fortified with the highest standards of safety and emergency response.
Our collaborative efforts extend to bolstering emergency medical services in our community, working hand-in-hand with Park Falls Area Ambulance Service in Park Falls, WI, Mercer Ambulance Service in Mercer, WI, and the Iron County Sheriff's Department who dispatch first responders and ambulance services. These partnerships are essential in providing prompt and effective emergency response for our community.
In addition to our direct partnerships, we further collaborate in ongoing trainings and learning initiatives with our esteemed colleagues in the Fifield and Pike Lake Emergency Medical Services. This collective dedication to continuous education and skill enhancement ensures that our team remains at the forefront of emergency medical care, providing the highest level of service to those in need.
By working together with these trusted partners, we strengthen the safety net of our community, striving for excellence in emergency medical services. Together, we stand committed to the well-being and health of our community, and we aim to provide the highest level of service possible.
In case of an emergency, please dial '911'.
An ambulance will be promptly dispatched to your location, and dispatch will also put out a call for any available First Responder to report to the scene. First Responders work to bridge the gap between dispatch and the arrival of the ambulance, ensuring swift and effective assistance.
Please note that Sherman First Responders operates as a dedicated team of volunteer Emergency Medical Responders (EMR). While we strive to respond promptly to all emergency calls, our availability may vary due to the volunteer nature of our organization. There is no guarantee of an available member at all times.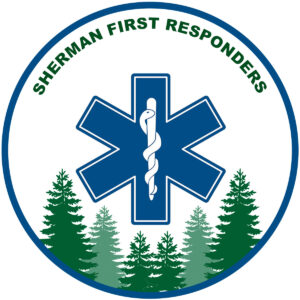 Our ability to respond during an emergency is directly correlated to our numbers. As such, we are always actively seeking additional volunteers to bolster our ranks and enhance the safety of our community. If you are interested in becoming a part of the Sherman First Responder team, please consider joining us in this vital mission.
For inquiries or to express your interest, please feel free to reach out to us at [email protected], complete the interest form found HERE, or use the contact form located at the bottom of this page.
Brad Matson Memorial Community Member of the Year Award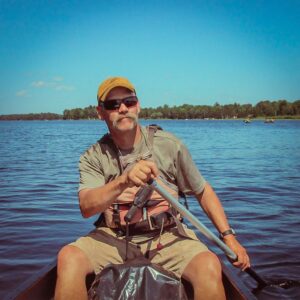 In honor of an esteemed founding member and original President of the current Town of Sherman First Responders, Brad Matson, we pay tribute to a dedicated community leader. Brad's contributions were vast, spanning numerous committees, initiatives, and groups. Notable among these were his 13-year tenure with the Sherman First Responders, his involvement with the Iron County Board of Supervisors, where he often held the position of acting chairperson, and his service on the Wisconsin Land and Water Conservation Association Board of Directors and the Land and Water Board for the Department of Agriculture, reflecting his deep affinity for the outdoors.
Following Brad's passing in 2019, it became our shared mission within the First Responder group to commemorate his unwavering devotion to his community. Thus, in 2023, we were honored to establish the Brad Matson Memorial Community Member of the Year Award. This award is designed to annually recognize a community member who embodies the same values Brad demonstrated throughout his many endeavors. In presenting this award, we aim to uphold and preserve Brad's legacy of dedicated service to our community.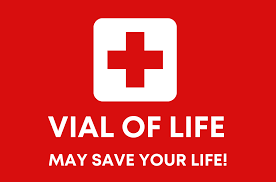 The Sherman First Responders are proud to offer the Vial of Life program to our community members. This program provides vital medical information to first responders in the event of an emergency, ensuring that you receive the best care possible.
A Vial of Life is a small container, usually a plastic vial or baggie, stored in your refrigerator. Inside, you'll find a form containing crucial medical information such as allergies, medications, medical conditions, emergency contacts, and any other pertinent details. This information is invaluable to first responders, especially when you may be unable to communicate your medical history.
How Can You Get a Vial of Life?
---
---
Coordinating with a Sherman First Responder to receive a Vial of Life is easy. Simply use the contact form at the bottom of this page to get in touch with our group. We're here to assist you in ensuring your safety and well-being in times of need.
Remember, preparedness can make all the difference in an emergency. Get your Vial of Life today.
Medical Alert System Test & Review
Ensuring the safety and well-being of you and your loved ones is a priority for us. If any member of your household relies on a medical alert system, we are pleased to provide a specialized service – a comprehensive Medical Alert System Test and Review
1. System Understanding and User Support:
While we cannot ensure the performance of third-party devices, our primary focus is on ensuring that all users of the medical alert system understand its components thoroughly. We aim to provide comprehensive insights into how the system works and guide users on the best practices to support a loved one in the case of a medical emergency that prompts a medical alert.
2. Coordinated Emergency Response:
In addition to testing your system, we aim to coordinate our potential emergency response to best meet your unique needs. By understanding your situation, we can tailor our approach to provide the most effective assistance in times of need.
How to Schedule:
Scheduling a Medical Alert System Test and Review with Sherman First Responders is simple:
Email: Reach out to us at. [email protected], or use the contact form below.
Contact Sherman First Responders
Thank you for entrusting us with your care.
Together, we strive for the safety and well-being of our community.