Welcome to the Town of Sherman
The Town of Sherman, containing the historical Springstead Area, is a beautiful land of forests, lakes and streams that has not been over commercialized or over populated. It's a secluded spot to rest and relax or actively participate in outdoor recreation and the life of the community. The Town of Sherman is 115 square miles in size. Contained within those miles are 55 lakes with 3,000 acres of surface waters and 79 miles of shoreline. In addition the Town of Sherman is the southern gateway to the Turtle-Flambeau Flowage. The Flowage is the largest publicly owned water resource in the State of Wisconsin.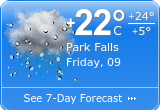 ---
SNOWSHOE S H E R M A N Shuffle
By Sherman Volunteer First Responders
Saturday
February 16, 2019
10:00 a.m.
Meet at Peninsula Pines,
855 Little Muskie Road, Park Falls (Springstead)
715-583-4554
Prizes to be given away during after-party at Peninsula Pines.
Early registration - $20. Day of event - $25. Donations welcome!

Contact Tracy at tracylmurrin@gmail.com
or 715-583-4477.

All proceeds to benefit Sherman EMR - First Responders.
Bring your snowshoes (or borrow a pair from us*) and join us for a fun day of shuffling through the great north woods and across Charnley Lake. Go at your own pace. Trail is approximately 5K. Unofficial times will be available.
*You must pre-register if you wish to borrow a pair of snowshoes